Cucumber Salad with Sour Cream and Dill Dressing
December 18, 2007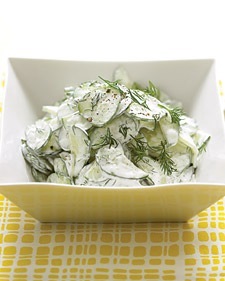 Ingredients:



½

cup

reduced-fat sour cream

2

tablespoons

fresh lemon juice (from 1 lemon)

tablespoons

chopped fresh dill, plus more for garnish (optional)

Coarse salt

ground pepper

1 pound

4 to 6 Kirby cucumbers (about 1 pound), halved lengthwise and thinly sliced crosswise



Directions:
In a medium bowl, combine sour cream, lemon juice, and dill. Season with salt and pepper, and whisk well to combine.
Add cucumbers, and toss to coat. Garnish with more dill, if desired. Serve, or refrigerate, covered, up to 4 hours.
(Serves 4)
We've given this creamy recipe a healthy -- but barely detectable -- update. Reduced-fat sour cream (in place of full-fat) lowers the calorie count without losing taste.
Download recipe.
Posted by dlmtechnology at 10:13 PM
New ENERGY STAR Certification rules
July 27, 2007
On July 20th, ENERGY STAR's new specifications for computers went into effect. Apple currently does not have one computer that meets the new requirements.

read more | digg story
Posted by dlmtechnology at 9:46 PM
First iPhone Class-Action Suite Against Apple and AT&T
July 27, 2007
It was bound to happen. It seems that a guy called Trujillo has been the first to file a class-action suite against Apple and AT&T because of the iPhone. The reason? You guessed it, it's the battery. Read all about this Mickey Mouse lawsuit, including the entire complaint text, after the jump.

read more | digg story
Posted by dlmtechnology at 9:43 PM
U.S. DOT considers switch to Mac, Linux
March 5, 2007
The U.S. Department of Transportation (DOT) has banned Windows Vista, Office 2007, and Internet Explorer 2007 from its offices, and is considering switching its operations to Macs and PCs running Novell's SuSe Linux. The DOT enacted the ban in mid-January, according to one blogger, because certain applications essential to the agency's function can

read more | digg story
Posted by dlmtechnology at 9:46 PM
Hidden rooms on the rise
October 5, 2006
On a recent Saturday morning Cami Beghou, 13, pushed the right side of the tall, white bookcase that is built into one of the powder-pink walls in her bedroom. The bookcase, holding rows of books, a stuffed dachshund and a volleyball, silently swung outward, revealing a tiny, well-lighted room. Containing a desk, a chair and a laptop computer

read more | digg story
Posted by dlmtechnology at 8:17 PM